In a historical moment like the one we are living hand sanitizer dispensers have now become an integral part of our everyday life. For the companies involved in their production, being able to take advantage of automation solutions for packaging is an undeniable advantage, even more so if these are highly customized and reliable. 
Meeting market demand for hand sanitizer with dispensers requires higher production speeds and production increases without, of course, compromising quality.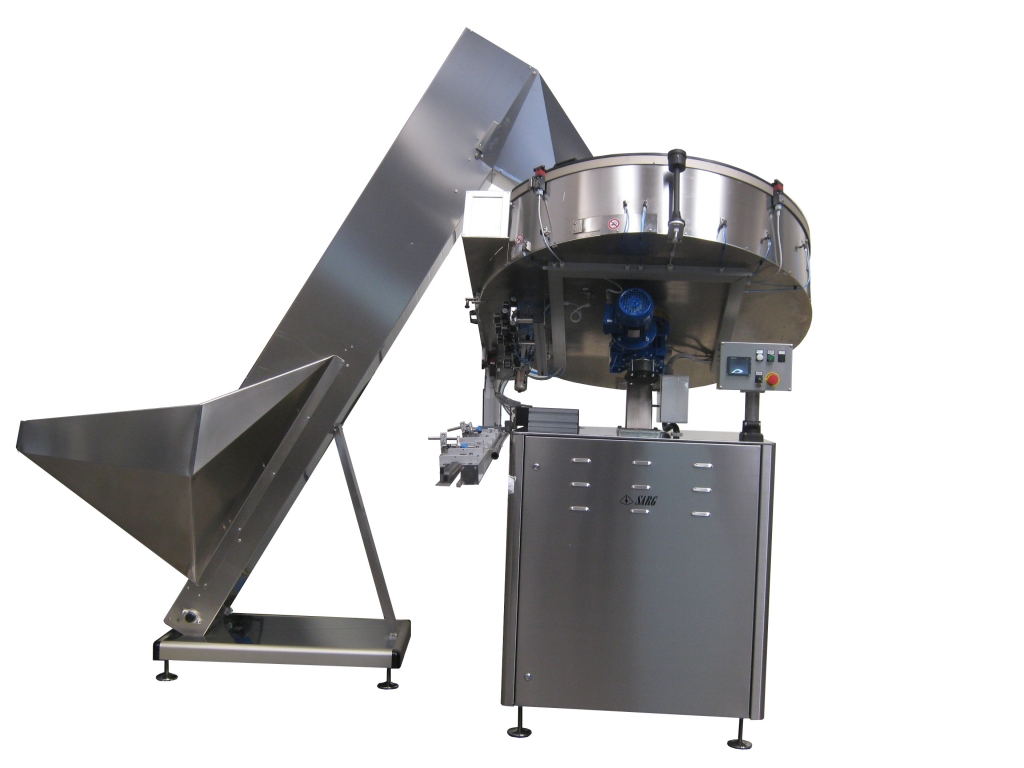 What Is Hand Sanitizer and What Is It Used For? 
A soap dispenser or hand pump is a device through which the product (soap or detergent disinfectant or hand sanitizing gel) is dispensed, in many cases without the user even needing to touch it. 
As you can guess, it's a device that guarantees very high hygiene standards, at the same time allowing for complete hand disinfection. We all know what hand sanitizer is, especially since the global Coronavirus pandemic: a product that acts against a wide range of microorganisms, including bacteria. 
But how is it made? Hand sanitizer aims to reduce infectious agents, whether it's in foam, liquid, or gel form. 
There are numerous possible formulations, with or without alcohol. In particular, alcohol-containing versions are based on a composition that includes ethanol, n-propanol and isopropyl alcohol. Almost all products have an alcohol content ranging between 60 and 80%. 
The most effective products in terms of antiseptic properties are those with an alcohol content of between 60 and 95% by volume. Beyond alcohol, other ingredients present are gelling agents (glycerol, for example) and emollients, which keep the skin from becoming irritated and dry. 
What Does a Hand Sanitizer Dispenser Look Like?
There are different types of hand sanitizer dispensers: the classic bottles, which are table-top models, but also free-standing or wall-mounted versions. Wall-mounted models, as you can well guess, are preferable in toilets: to mount them you need dowels and screws. There is nothing to stop you from using a table-top dispenser, but you must take into account that, when moved, the device can get dirty, or can always fall down due to an accidental bump. 
An alternative solution is represented by standing dispensers, which can be equipped with a support surface or require the use of screws to secure them. 
Gel packaging comes in different formats: they can be small bottles with flip-top caps to carry around in your bag, or classic 500 ml bottles with hand pumps and a spout dispenser that distributes a defined quantity of sanitizer with a light pressure.
SARG's Solutions for Different Production Processes: Package Filling, Dispenser Assembly and their Advantages
For companies involved in the production of sanitizer dispensers, being able to count on a custom-made machine to orient the finished part or assemble the components of a dispenser undoubtedly guarantees multiple advantages in terms of convenience and flexibility. 
SARG provides customized solutions according to your specific needs and offers three solutions for the orientation of the components, based on twenty years of experience with thousands of installations worldwide alongside our partner manufacturers of filling or assembly lines. 
The STM – D series of high speed mechanical orienters for dispensers, in particular, is a specific solution that allows the assembly of hand pump dispensers for an output of up to 250 pieces per minute for filling systems. Moreover, this system allows to process with only one system different parts: pump dispensers, pump caps, foam pumps, sprayers and flip-top or screw caps. 
The capacity of the combined elevator hopper changes according to the desired level of autonomy. This dispenser orientation system includes, in addition to the sorter, a conveyor system, e.g., an air channel, which seamlessly interfaces with the filling machine, ensuring constant loading with its appropriately sized buffer. The soundproof protection allows to decrease the noise level even under 75 dB.
For the assembly of the different constituent parts, SARG also offers vibration systems: a system that facilitates the interface with the customer's machine. Thanks to the customized selection for each single format, you can have a system that is fast in changing format: in this way, where the application allows it, there is no need to use two different machines. Each feeding system of the plant is combined with a dedicated hopper or loading elevator in order to obtain the desired autonomy, taking advantage of the four product lines available as standard, entirely realized by SARG.
Finally, the vibrating system for pump dispensers, sprayers and caps, designed for medium-low output. By taking advantage of targeted customization or format changes, you can process caps, dispensers, and any other parts with a single feeding system. It is a solution that ensures a production system of 60 pieces per minute for dispensers.
For a hand sanitizer dispenser, the packaging and the closing of the bottles are very delicate processes: for this reason, SARG meets the needs of companies in the industry with feeding systems for the assembly of dispensers and the supply of complete high quality and customizable dispensers.
Contact SARG to Learn More
If you have a company that uses hand sanitizing gel dispensers, contact SARG to get more information about its custom solutions and to request a quote: you will discover all the options in line with your actual needs.